Whole House Dehumidifier
The best way to dehumidify your home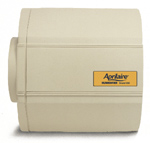 A dehumidifier reduces and maintains humidity levels by extracting water from the air. With the proper level of humidity in your home, you will feel more comfortable and breathe easier. You can eliminate musty odor and to prevent the growth of mildew or mold. It also reduces the dust in the air, which can trigger allergies.
A whole house dehumidifier can be easily added to any forced air heating system. As long as the condensate water is handled correctly, most dehumidifiers require very little maintenance.
Portable dehumidifiers typically last between 3 - 5 years, while a whole house dehumidifier offers approximately 8 years. The actual life span for your dehumidifier depends on how you care for it over the years. Proper maintenance is essential for extending the life of your unit.