Professional Del Rio Electricians
When something integral to daily life in your home breaks down, it can be a major headache. However, sometimes it can be worse than a headache- certain breakdowns can be downright hazardous. Electrical problems of all types can pose a serious threat to the safety of your home and household. At Comfort Tech Service Now, we understand how important your home's safety is. We can repair any electrical problems, and with our "fixed right or it's free" guarantee, we can help restore your peace of mind. If you are experiencing electrical problems in your Del Rio area home, contact our team of qualified experts for professional electrical repairs right away.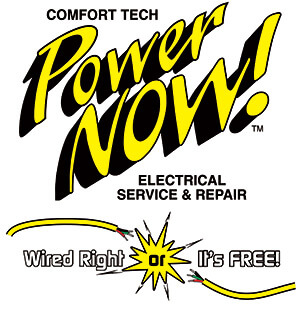 Del Rio Electrical Repairs
Electrical problems in your home can show up in a number of subtle ways. From flickering lights to tripping circuit breakers, there are many signs to look out for. As a general rule of thumb, none of your switches or outlets should buzz or emit warmth. Likewise, anything you have plugged in, such as your lights and appliances, should not shock you or make an electrical humming noise. If you suspect that your home is showing signs of electrical malfunction, contact our polite, knowledgeable staff to have a professional electrician come assess your problem and make repairs.
Expert Electrical Safety Inspections
If you are buying or selling a Del Rio area house, you will need to have an electrical safety inspection done as part of the process. Home buyers often have to have electrical safety inspections as part of the mortgage application process or even in order to get insurance on their home. Sellers may want to opt for an electrical safety inspection to identify any potential repairs that will need to be made before putting the house on the market, or to highlight what great condition their home is in. Even if you are not looking to buy or sell, you may need an electrical inspection if your home has not had one in over five years. Having a professional conduct an electrical safety inspection in your home is a smart way to assess your home's electrical system and identify any areas that may need to be repaired or upgraded. Whatever the reason you need one, Comfort Tech Service Now offers electrical inspection services for the greater Del Rio, Texas area.
Electrical Wiring Specialists
The wiring in your Del Rio home comprises a majority of your home's electrical system. Old, unsafe wires can pose a fire hazard to your home. In some cases, certain homes built over 30 years ago were wired using aluminum wiring, which can oxidize. Unfortunately, oxidized aluminum is not a good conductor of electricity, which means that if your home has old aluminum wires, it can develop problems with electrical flow and overheating. Alternatively, your home could be wired to handle an electrical load that is significantly lower than the demands you put on it. With modern advances in technology, most homes draw a considerable amount of electricity. Older wiring may not be able to safely manage the load and could begin to overheat and slowly burn inside your walls. If your home has unsafe wiring that is prone to overheating, the end result could be a dangerous electrical fire. Comfort Tech Service Now has professional electricians on staff to help replace your home's wiring with updated, safe wire.
Del Rio Panel Upgrades
Each home has an electrical panel somewhere on the premises. An electrical panel can be a circuit breaker box or fuse box. Either way, it is designed to be the weakest point in your electrical system. In other words, if your electrical system is overloaded, your electrical panel is designed to interrupt the flow of electricity, either by "tripping" a breaker or by melting a fuse. If your panel is frequently blowing fuses or tripping breakers, that could be a sign that your system is regularly overloaded. Upgrading your panel to handle a larger load of electricity may be necessary for your modern home's needs. Contact our team of experts at Comfort Tech Service Now for more information.
At Comfort Tech Service Now, we are committed to 100% customer satisfaction with every electrical service job we take on. If you are looking for help from professional electricians in the Del Rio, Texas area, give us a call today at 830.774.6542 or complete our online request form to get started!
Recent Articles
Signs Your Air Conditioning Ducts Are Wasting Energy And What To Do About It - Since our air conditioners run pretty much constantly throughout the Del Rio summers, it can be hard to notice subtle changes in the system. Yet, since saving energy is on the mind of every homeowner in Del Rio, it pays to know what signs mean that the air conditioning ducts are wasting energy…
Tips For Getting The Best In Energy Efficiency From Your Air Conditioning - Anyone who has lived in Del Rio for any length of time knows what summer heat can be like. In fact, you don't have to wait for summer to get some of that heat. So, it goes without saying that it is of the utmost importance to have your air conditioning in proper working order. However, there's more to your air conditioner than just having it functional – or not...
Experienced Electricians Serving the Del Rio Area Since 1980
The Importance of Electricity
What to Look for in an Electrician
Services Our Electricians Provide in the Del Rio and Eagle Pass Area
Call Comfort Tech Service Now for Professional Electrical Service in Eagle Pass or Del Rio
Electrical FAQs