Expert Del Rio Area Plumbing Service Professionals
At Comfort Tech Service Now, we offer a variety of services to ensure that your Del Rio home is running as smoothly as possible. As your local home repair services professionals, we understand how important it is that all aspects of your home work the way they should, including your plumbing. Plumbing issues such as clogged drains, leaky pipes, or broken water heaters can impact your day to day living and even bring activities such as showering and cleaning your home to a halt. Worse, serious plumbing issues can cause mold and structural damage in your home. We understand the importance of quickly, professionally, and correctly repairing all your plumbing problems. In fact, we guarantee that we will fix your problem the right way, or your service is free! If your Del Rio area home needs professional attention from a qualified plumber, contact Comfort Tech Service Now today!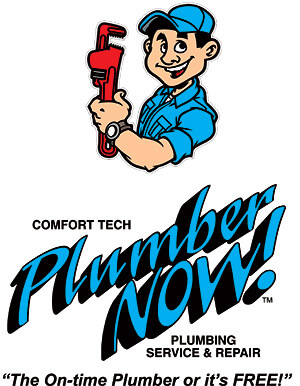 Del Rio Leak Detection and Repair
Sometimes it can be hard to tell if you have a leak in your home's plumbing. After all, your plumbing is mostly hidden from view, located inside your walls and floors. There are subtle signs that you could have a leak. For example, if you suspect that the usage on your water bills is unusually high compared to your normal usage, or if your water pressure seems unusually low, you could have a hidden leak somewhere in your home. Leaky pipes can cause major damage to your home. Small, undetected leaks can cause warping and mold growth over time. If you suspect that your home has a hidden leak, the experts at Comfort Tech Service Now can help identify and repair the source of the problem. Larger leaks may be more immediately noticeable, but they can easily lead to flooding and structural damage in your home, so do not delay in contacting your local professional plumbers for assistance if you have a leak in your home.
Expert Del Rio Drain Cleaning
One of the most common plumbing problems is clogged drains or pipes. Most homeowners know to be careful with what they put in their drains. However, even if you are vigilant about keeping grease, oil, and food from entering your drains, clogs can still develop. After all, over the years other materials and chemicals like hair, soap, and cleaners can enter your pipes. Regular exposure to these materials can lead to the build up that causes clogs. As clogs begin to develop in your pipes, you may notice your water draining more slowly than before. Water pooling near your drain is a sure sign that you have a clog developing somewhere in your plumbing. If you suspect that you have a clog forming in your drains, Comfort Tech Service Now can help! We offer drain cleaning services to help remove clogs and get your pipes moving at optimum efficiency. Our experts have the knowledge and skills to successfully repair your clogged drains, so contact us today to get started!
Professional Water Heater Services
At Comfort Tech Service Now, we understand how important it is that your water heater is functioning properly. After all, you use hot water throughout the day each and every day. From bathing and showering to washing your hands or running a load of laundry, your hot water is an essential part of your daily life. If your water heater starts to malfunction or stops working altogether, it can disrupt your normal life and routines. Our qualified, professional plumbers offer water heater repairs in the Del Rio area to help you get your life get back to normal. Whether your water heater is gas or electric, we can handle it. Our skilled plumbers will be able to assess, diagnose, and repair any water heater problem. If the worst case scenario occurs and your water heater is beyond repair, our skilled plumbers can even assist with water heater replacement and installation. Comfort Tech Service Now makes your satisfaction our priority. Each of our professionals must meet the highest standards in technical skills and work ethic, and must pass a background check and drug test to represent our business. We strive to offer the best quality work and the best value around. Our "fixed right or fixed free" guarantee means you never have to worry about shoddy craftsmanship or wasting your hard earned money on sub-par home repairs.
If you need plumbing services in the Del Rio, Texas area contact us today at 830.774.6542 or complete our online request form to get started!
Recent Articles
Signs Your Air Conditioning Ducts Are Wasting Energy And What To Do About It - Since our air conditioners run pretty much constantly throughout the Del Rio summers, it can be hard to notice subtle changes in the system. Yet, since saving energy is on the mind of every homeowner in Del Rio, it pays to know what signs mean that the air conditioning ducts are wasting energy…
Tips For Getting The Best In Energy Efficiency From Your Air Conditioning - Anyone who has lived in Del Rio for any length of time knows what summer heat can be like. In fact, you don't have to wait for summer to get some of that heat. So, it goes without saying that it is of the utmost importance to have your air conditioning in proper working order. However, there's more to your air conditioner than just having it functional – or not...
Skilled Plumbers Serving the Del Rio Area for Over 43 Years
Do you have a burst pipe? Does the smell of sewage permeate your home? Has that leaking faucet finally driven you off the deep end? Then, you need to call Del Rio's go-to plumber: Comfort Tech . We know that plumbing issues often strike at the worst possible time. That's why we take steps to ensure our rates stay competitive and our responses prompt. All of the licensed plumbers we employ know the importance of putting you first and are equipped to tackle almost any plumbing problem.
Schedule plumbing service in Del Rio or Eagle Pass by calling
830.774.6542
.
The Importance of Plumbing
In the 21st century, a life without plumbing is hard to imagine. It's such a vital part of everyday life that you rarely think about the benefits it provides. The fact that you can turn a faucet and expect hot water to come out is only possible through years of plumbing advances. Without the help of professional plumbers—from Ancient Greece to today—our modern lifestyle would be impossible.
Before discussing the wide array of plumbing services we provide in Del Rio, we want to remind you of the vital role plumbers play in society.
Maintaining Health: The World Health Organization has declared plumbers to be the world's most important frontline workers. Through their knowledge of pipes and water supply, they make clean water accessible. Potable water is essential to life. Nothing is more important than hydration to sustaining the human body. This water is also used for hygiene practices and sanitation.
Waste Removal: Your plumbing systems are responsible for transporting, dispersing, and transporting liquid and solid waste. It is only through the work of plumbers that things like diphtheria and typhoid have become less common.
Water Conservation: Unfortunately, there's only so much water to go around. That's why using it wisely is so vital. Plumbing companies like ours use technology and water management programs to optimize water usage. We also help put recycling programs in place that limit unnecessary waste.
Services Our Plumbers Provide in the Del Rio and Eagle Pass Area
At Comfort Tech , we pride ourselves on our ability to offer comprehensive, cost-effective plumbing solutions. Our local plumbers are well acquainted with all brands, models, and types of plumbing fixtures. Rest assured—whether the job is large or small—that we'll treat you and your home with respect. From start to finish, we'll do everything we can to keep you informed, educated, and comfortable.
If you need any the following plumbing services in Del Rio, you can count on us:
What to Look for in a Plumber
If you've heard stories about the havoc an inexperienced plumber can wreak on your plumbing system, then you know how important it is to find the right plumbing company. To ensure your home is in good hands, we suggest keeping an eye out for:
Proper Licensing: Make sure your potential plumber is licensed, insured, and certified to work in the state of Texas. This ensures they've passed a basic competency test and are up to date on modern plumbing code.
Business Experience: While there are some exceptions, it's best to hire plumbing companies with a few years under their belt. The more experienced a plumbing contractor is, the quicker they'll be able to pinpoint and correct the problem.
Price: Before hiring someone for major plumbing work in Del Rio, we suggest getting a few price quotes. Don't be tempted by the cheapest invoice, however! This is often a sign—especially if the difference is large—that a plumbing contractor doesn't understand the work involved.
Reviews and References: What do past customers have to say about the plumber? How do people you know react when they hear the company's name? Check Google and Facebook for previous reviews. If there are negative ones, verify that the company responds to the perceived problem.
Guarantees: What happens if you aren't happy with the work the plumber does? Will they make it up to you? Is a refund in the cards? Any plumbing company that isn't willing to stand behind its work is one best passed over.
For people who don't have time for this kind of research, we suggest giving 830.774.6542 a call. We check all of the above boxes. We're also locally owned and familiar with Eagle Pass, Del Rio, and Carrizo Springs.
Call Comfort Tech Service Now for Plumbing Service in Eagle Pass or Del Rio
Our plumbing company understands how important it is to keep the plumbing in your home or business operating efficiently. But we also know that satisfying you is just as—if not more—vital. That is why all of our plumbers undergo regular training to equip them with the latest tools and discoveries. Through this, they become better able to spot and diagnose problems in your bathroom or kitchen fixtures. As a locally-owned company based out of Del Rio, we are familiar with the plumbing structure and needs of homes like yours. To experience our difference firsthand, we invite you to schedule an appointment by phone or form. Not sure we're the Del Rio plumber for you? See what past customers had to say about our plumbing services.
Plumbing FAQs
Unfortunately, this isn't something we can provide over the phone. Every plumbing job in Del Rio is different. To ensure an accurate price, we'll need to visit your home to investigate the issue. Rest assured, our guaranteed proposals are fair and based on current market rates.
You might be wondering if we can handle your particular faucet or toilet issue because of its brand. Well, rest easy! Comfort Tech services all popular brands of plumbing fixtures including American Standard, Bemis, Delta, Elkay, Grohe, InSinkErator, Kohler, Moen, Mueller, Coleman, GE, Kohler, Whirlpool, and Whirlaway.
Soft water is water that is free of hard chemicals like iron and calcium. To take water from hard to soft, water softeners replace those unwanted chemicals with sodium or potassium. This results in less soap scum and a better occupant experience.
You'll want to start by shutting off the main water supply. Alternatively, instead of shutting off water to your whole house, you may be able to shut off water closer to the leak. Stopping the flow of water will help limit the scope of the water damage. Then, use towels or rags to absorb what water you can. By doing so, you can make a cleaner, safer working area for our plumber. Lastly, if we cannot get to you same day, consider opening a window and using an air blower to wick off excess moisture. If the leak is small, you can initiate a temporary patch before turning the water back on.
Although you might get a better rate from an unlicensed plumber, the savings aren't worth it. Any repairs they complete won't be covered by insurance if they fail. There is also no guarantee that the solutions implemented will meet modern code standards.
There are few things you can do to lower your water bills. These savings tips include:
Limiting the length of showers
Place warm water in the fridge instead of waiting for the tap to cool
Install a low-flow showerhead or toilet
Only run full dishwasher and full laundry loads
Place a brick in your toilet tank to reduce water volume
Use the dishwasher instead of handwashing dishes