Expert Del Rio Area Plumbing Service Professionals
At Comfort Tech Service Now, we offer a variety of services to ensure that your Del Rio home is running as smoothly as possible. As your local home repair services professionals, we understand how important it is that all aspects of your home work the way they should, including your plumbing. Plumbing issues such as clogged drains, leaky pipes, or broken water heaters can impact your day to day living and even bring activities such as showering and cleaning your home to a halt. Worse, serious plumbing issues can cause mold and structural damage in your home. We understand the importance of quickly, professionally, and correctly repairing all your plumbing problems. In fact, we guarantee that we will fix your problem the right way, or your service is free! If your Del Rio area home needs professional attention from a qualified plumber, contact Comfort Tech Service Now today!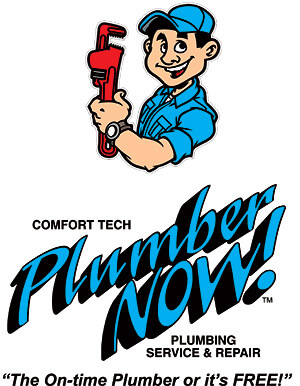 Del Rio Leak Detection and Repair
Sometimes it can be hard to tell if you have a leak in your home's plumbing. After all, your plumbing is mostly hidden from view, located inside your walls and floors. There are subtle signs that you could have a leak. For example, if you suspect that the usage on your water bills is unusually high compared to your normal usage, or if your water pressure seems unusually low, you could have a hidden leak somewhere in your home. Leaky pipes can cause major damage to your home. Small, undetected leaks can cause warping and mold growth over time. If you suspect that your home has a hidden leak, the experts at Comfort Tech Service Now can help identify and repair the source of the problem. Larger leaks may be more immediately noticeable, but they can easily lead to flooding and structural damage in your home, so do not delay in contacting your local professional plumbers for assistance if you have a leak in your home.
Expert Del Rio Drain Cleaning
One of the most common plumbing problems is clogged drains or pipes. Most homeowners know to be careful with what they put in their drains. However, even if you are vigilant about keeping grease, oil, and food from entering your drains, clogs can still develop. After all, over the years other materials and chemicals like hair, soap, and cleaners can enter your pipes. Regular exposure to these materials can lead to the build up that causes clogs. As clogs begin to develop in your pipes, you may notice your water draining more slowly than before. Water pooling near your drain is a sure sign that you have a clog developing somewhere in your plumbing. If you suspect that you have a clog forming in your drains, Comfort Tech Service Now can help! We offer drain cleaning services to help remove clogs and get your pipes moving at optimum efficiency. Our experts have the knowledge and skills to successfully repair your clogged drains, so contact us today to get started!
Professional Water Heater Services
At Comfort Tech Service Now, we understand how important it is that your water heater is functioning properly. After all, you use hot water throughout the day each and every day. From bathing and showering to washing your hands or running a load of laundry, your hot water is an essential part of your daily life. If your water heater starts to malfunction or stops working altogether, it can disrupt your normal life and routines. Our qualified, professional plumbers offer water heater repairs in the Del Rio area to help you get your life get back to normal. Whether your water heater is gas or electric, we can handle it. Our skilled plumbers will be able to assess, diagnose, and repair any water heater problem. If the worst case scenario occurs and your water heater is beyond repair, our skilled plumbers can even assist with water heater replacement and installation. Comfort Tech Service Now makes your satisfaction our priority. Each of our professionals must meet the highest standards in technical skills and work ethic, and must pass a background check and drug test to represent our business. We strive to offer the best quality work and the best value around. Our "fixed right or fixed free" guarantee means you never have to worry about shoddy craftsmanship or wasting your hard earned money on sub-par home repairs.
If you need plumbing services in the Del Rio, Texas area contact us today at (830) 774-6542 or complete our online request form to get started!
Recent Articles
Signs Your Air Conditioning Ducts Are Wasting Energy And What To Do About It - Since our air conditioners run pretty much constantly throughout the Del Rio summers, it can be hard to notice subtle changes in the system. Yet, since saving energy is on the mind of every homeowner in Del Rio, it pays to know what signs mean that the air conditioning ducts are wasting energy…
Tips For Getting The Best In Energy Efficiency From Your Air Conditioning - Anyone who has lived in Del Rio for any length of time knows what summer heat can be like. In fact, you don't have to wait for summer to get some of that heat. So, it goes without saying that it is of the utmost importance to have your air conditioning in proper working order. However, there's more to your air conditioner than just having it functional – or not...
Skilled Plumbers Serving the Del Rio Area for Over 43 Years
The Importance of Plumbing
Services Our Plumbers Provide in the Del Rio and Eagle Pass Area
What to Look for in a Plumber
Call Comfort Tech Service Now for Plumbing Service in Eagle Pass or Del Rio
Plumbing FAQs